Two students beginning their post-secondary studies at York University have been named recipients of the prestigious Schulich Leader Scholarship.
Out of a pool of 350,000 potential candidates across Canada, more than 1,400 students were nominated, of which 100 received this celebrated award.
With the help of the scholarship, the graduating high-school students from the Greater Toronto and Hamilton Area will further their knowledge at the Lassonde School of Engineering at York to support their goals of starting their own companies and putting their skills to use for the greater good.
Mitchell Clapperton, 17, of Waterdown, Ont., is entering an electrical engineering program; and Jasmine Gherman, 18, of Toronto, will study computer programming.
The Schulich Leader Scholarship is Canada's largest for undergraduate education in science, technology, engineering and math (STEM). It is awarded to students who demonstrate academic excellence, leadership, charisma and creativity, as well as financial need.
Clapperton will receive a $120,000 scholarship and Gherman will receive $100,000, as per the scholarship funding for the Bachelor of Engineering and Bachelor of Science programs.
"We're delighted that Jasmine and Mitchell have chosen Lassonde as their academic home," says Jane Goodyer, dean of Lassonde. "Their decision to pursue their aspirations here underscores our school's reputation as a world-class hub for future engineers, scientists and entrepreneurs to collaborate in improving the world for everyone. As they embark on their post-secondary journeys with the generous support of the Schulich Leader Scholarship program, we look forward to seeing the positive impact they'll make within our school, the STEM field and beyond."
Mitchell Clapperton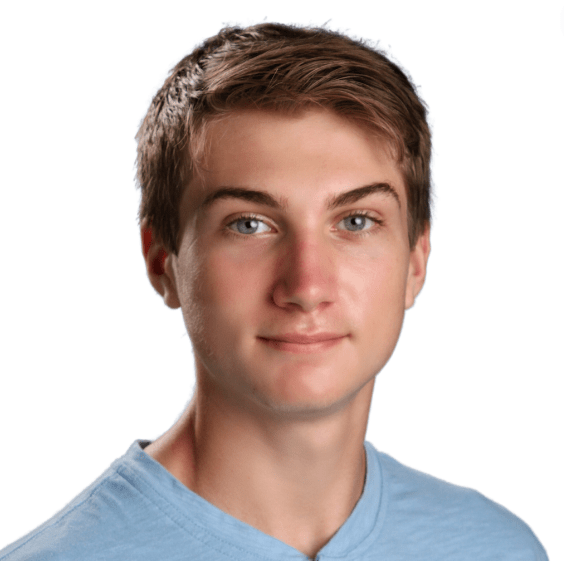 Clapperton hails from the Waterdown area, situated halfway between Westdale Secondary School in Hamilton, Ont. – where he was enrolled in the French Immersion program and founded the school's STEM club – and Burlington, Ont., where he volunteered as a coach for the Special Olympics softball and floor hockey teams. He was a gold medallist in four regional science fairs, three of which went on to win medals Canada-wide and one that qualified for an international competition.
"The cool thing about science fairs is there's always a little piece of 'for good' in there. I'd love to keep that up and keep 'innovation for good' as a goal in the future," he says. "I am really looking forward to getting this education, so I can tackle more projects like this, and this Schulich Leader scholarship will help me to do that."
Jasmine Gherman
Born to an immigrant family from Romania, Gherman is from Scarborough, Ont., where she attended Mary Ward Catholic Secondary – one of only a handful of self-directed learning schools in Canada – where she took a leadership role at the coding club. She is a contributor for an award-winning, arts-and-science, Romanian-language newspaper, where she has written about advice for parents and encouraging girls to consider STEM career paths. A self-described introvert, Gherman has embraced her quiet leadership style and says teachers describe her as being someone who does not always speak up, but when she does, everyone listens.
"I'm not someone who likes cut-throat competition. I appreciate drive and collaboration for the greater good, and I believe that this program will give me those opportunities," she says. "I'm grateful that this scholarship will allow me to focus on my studies without taking on a large debt burden."
"We are proud to celebrate the continued success of Schulich Leader Scholarships, the premiere STEM scholarship program in Canada," says program founder Seymour Schulich. "This group of outstanding students will represent the best and brightest Canada has to offer and will make great contributions to society, both on a national and global scale. With their university expenses covered, they can focus their time on their studies, research projects, extracurriculars and entrepreneurial ventures. They are the next generation of entrepreneurial-minded, technology innovators.
Learn more at News @ York.