After several months of declining health, York University Professor Emeritus Pinayur "Raja" Rajagopal died peacefully on June 11 at Toronto Western Hospital. He was born March 1, 1930 in Vellore, India.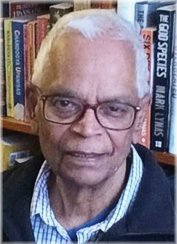 Rajagopal came to Canada to join the faculty at York University in July 1966. He had studied at Loyola College in Madras and taught at Alagappa College before completing his doctorate at Cambridge University and doing research for three years in Munich, Germany.
When Atkinson College was founded as a unique Canadian institution for teaching part-time students, Rajagopal was recruited to start the Department of Computer Science and Mathematics, which he built and led as it grew to about a dozen full-time faculty. Rajagopal taught evening classes to Atkinson students for 30 years until his retirement and also spent a great deal of time helping to develop the University in its early decades. His expertise and perspective on advancing, and funding, higher education in the Province of Ontario and the University earned him respect across the Faculty and administration.
"Raja, as well as being the brightest of us all with a huge heart, was a true and loyal friend," said Howard Edelman, York University professor emeritus (philosophy).
Outside of his working life, Rajagopal was a family man and an active member of the Toronto Quaker Meeting, where he chaired the Quaker Committee for Refugees for many years. With his wife, Dagmar, he raised two sons Krishna and Mohan. He leaves behind his sons, daughters-in-law, Dana Ansel and Kate Gompert, and grandchildren, Ellery, Kirsi, Jonas and Isaac Rajagopal. He is predeceased by his wife Dagmar.
His family will honour his memory at a later time when in-person gatherings are possible.