Scholars, activists and policy-makers will assemble at York University from Sept. 26 to 28 for the Feminist Explorations of Urban Futures International Conference, where they will discuss and present findings from GenUrb, a collaborative research project.
The three-day conference, hosted by the City Institute at York University, presents findings from the GenUrb project "Urbanization, gender, and the global south: A transformative knowledge network."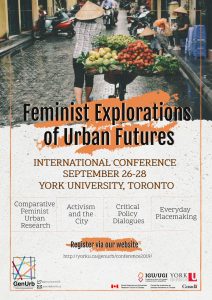 GenUrb is a six-year international comparative research project that brings together more than 40 feminist academics, policy-makers, and activists to advance the understanding of how the relationship between poverty and inequality is being transformed, focusing in particular on the reconstitution of gender relations and women's rights to the city.
Research for the project is being conducted in Georgetown, Guyana; Cochabamba, Bolivia; Ibadan, Nigeria; Mumbai, India; Ramallah, Palestine; Cairo, Egypt; and Shanghai, China.
The purpose of the conference is to advance feminist thinking on urban research across the global south. The conference aims to explore how feminist scholars, activists and policy-makers understand the gendered nature of urbanization and women's place-making strategies, and to rethink the urban from the perspective of the global south.
With social reproduction in crisis and people increasingly making a living outside the wage, the urban is being reshaped in ways that are no longer captured in 20th-century conceptualizations of urbanization. In those countries labelled the "global south," urbanization, driven both by natural increase and rural-to-urban migration, is where more than 90 per cent of urban growth (between 2000 and 2050) is expected to occur.
Through a series of roundtables, panels, workshops and research paper sessions, the Feminist Explorations of Urban Futures International Conference will create a global dialogue on the following themes: comparative feminist research; critical policy dialogues on gender and the urban; feminist activism and the city; and social reproduction and women's place-making in cities.
It will bring together scholars and activists from the GenUrb network, as well as other urban scholars and activists from the global south, York faculty members, leading national and international urban policy-makers and feminist urban scholars, as well as emerging scholars and graduate students.
To learn more about the conference, visit yorku.ca/genurb.