York University researchers will receive more than $700,000 in provincial funding for research projects and equipment through the Early Researcher Award (ERA) program and the Ontario Research Fund (ORF).
Victor Fedeli, Ontario's minister of economic development, job creation and trade, announced nearly $41 million in research funding for research institutions across Ontario yesterday, in the High Bay Structure Lab at York's Lassonde School of Engineering.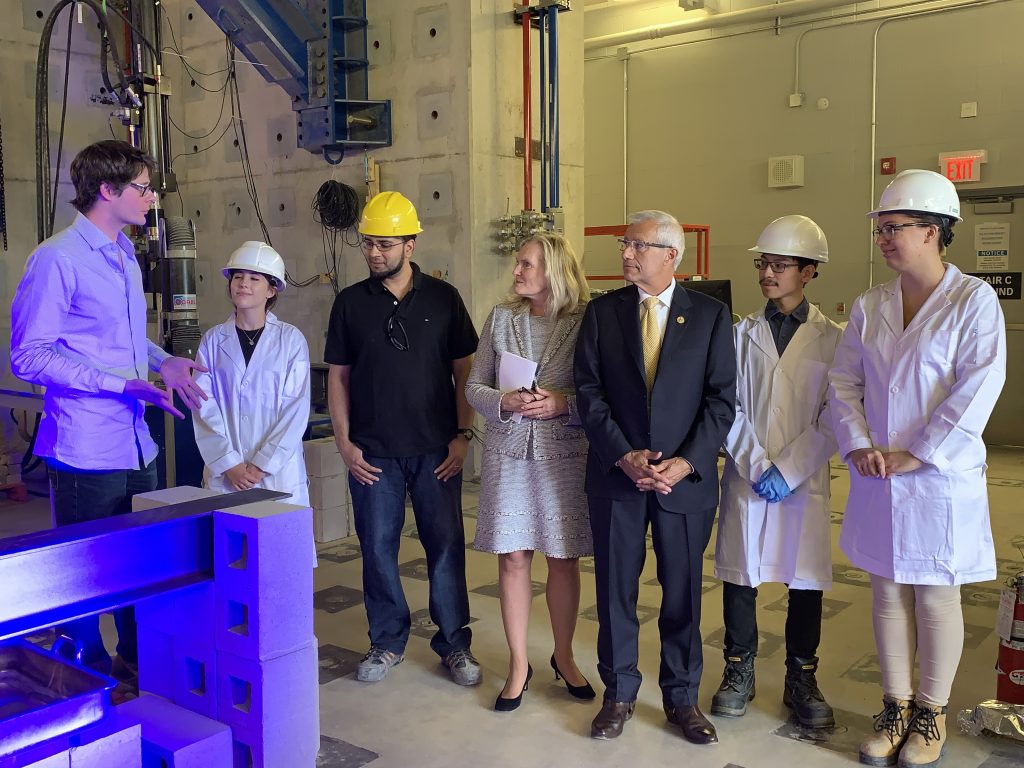 Civil engineering Professor John Gales demonstrated how his lab assesses the resiliency of building materials to develop construction materials that are fire safe, innovative and sustainable.
Gales' fire testing lab will receive $118,135 in ORF grants, which match funding from the Canada Foundation for Innovation's John R. Evans Leaders Fund. The grants will allow the fire testing lab at Lassonde, one of the few in Canada, to scale up the technology to test load and heat on larger building frames to make buildings safer and more cost-efficient.
"York University's research excellence is rooted in creating positive impacts in the lives of individuals and communities," said York University President and Vice-Chancellor Rhonda L. Lenton. "Professor Gales' lab examines how materials can help make buildings and homes – and the people and families who live and work in them – safer from the risk of fire, and we are grateful to the government of Ontario for supporting this important research."
Three other York University researchers will also receive ORF grants, and two researchers will receive ERAs. They are:
Cora Young, Department of Chemistry, Faculty of Science – $138,555 for Adaptable Liquid Chromatography System for Online and Offline Analysis of Trace Atmospheric Water-Soluble Compounds;
Ryan Hili, Department of Chemistry, Faculty of Science – $114,626 for Expanding the Chemistry of DNA;
Lyndsay Hayhurst, School of Kinesiology & Health Science, Faculty of Health – $49,664 for Digital Participatory Research and Physical Cultures Lab;
Doug Van Nort, Department of Music, School of the Arts, Media, Performance & Design, Canada Research Chair in Digital Performance – $140,000 ERA for Improvising Machine Agents for Ensemble Musical Performance; and
Pouya Rezai, Department of Mechanical Engineering, Lassonde School of Engineering – $140,000 ERA for Organ- and Organism-on-a-Chip Platform Technologies for Neurodegenerative Disease Studies and Drug Screening.
To read the full government announcement, visit bit.ly/2lyLOCy.