Faculty of Education Associate Professor Roopa Desai Trilokekar and PhD candidate Amira El Masri are helping to shed light on the historical changes in national government policies on international students' recruitment and retention.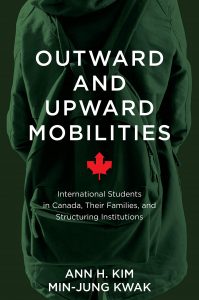 Together, they recently published a chapter in the 2019 book Outward and Upward Mobilities: International Students in Canada, Their Families, and Structuring Institutions. The chapter, "'International Students Are…Golden': Canada's Policy Contexts, Approaches, and National Peculiarities in Attracting International Students as Future Immigrants," examines the historical policy shifts pertaining to international students from the 1960s until today.
Trilokekar and El Masri's chapter traces four different time frames to outline shifts in the government's approach to international education in general and international students specifically. Whereas international education was strongly linked with Canada's cultural diplomacy efforts in the 1960s, with funds allocated to sponsor international students studying in Canada, it gradually shifted in the 1980s, a period that witnessed "domestication of foreign policy" and the introduction of a fee-paying model for international students across Canada.
In the 1990s, international education became linked with international trade, and international education marketization and branding initiatives intensified to recruit fee-paying international students. The 2000s witnessed another shift, as international students were not just perceived as a revenue generation source but also as a human capital pool.
"What we've shown is how the Canadian government has actually very proactively shifted from policies that facilitate international students' entry to Canada yet ensure their return home after graduation to the current policies that aim to retain them," said Trilokekar.
The authors track the series of immigration policy changes that took place to facilitate international students' recruitment and retention.
"International education is becoming more intertwined with immigration policies," said El Masri. "It's more like they are merging into one policy context."
International students have been constructed by national policies as the "ideal immigrants," since they are typically young, proficient in one of the official languages, and have self-financed to gain Canadian credentials and experience to meet the needs of the labour market and the immigration goals of the country.
While the authors acknowledge that similar policy trends of international student recruitment and retention are evident in other Organisation for Economic Co-operation & Development countries, they argue that Canada's unique historical, geopolitical, economic and cultural context has largely shaped the national borrowing of this global policy discourse. Trilokekar and El Masri's work fills a gap in the literature and complements other studies that focus on national government policies on international education and immigration.
The book is available for purchase here.