A groundbreaking new documentary feature by filmmaker/media artist and York University Communication Studies faculty Michelle Mohabeer is featured as part of the 50th Visions du Reel media library in Nyon, Switzerland, from April 5 to 13.
The feature, Queer Coolie-tudes, will also be available online for three months following the festival.
Mohabeer is credited as director, producer, writer, cameraperson and visual designer of the film, which runs 87 minutes and is noted for being the first documentary feature written and directed by a queer woman of colour on the film's topic.
Queer Coolie-tudes is a queer ethnographic documentary that visiblizes the intergenerational lives, histories, identities, familial relations and sexualities of a diverse range of subjects (academics, artists and activists) from the Queer Indo-Caribbean diaspora in Canada. Some are mixed race, including dougla (Indian-African mixture) and callaloo (creole mixtures), and genderqueer, disabled, aids activists and perform drag identities. The film was released on Feb. 1.
Along with Mohabeer, York University professors Amar Wahab of the Faculty of Liberal Arts & Professional Studies (LA&PS) and Andil Gosine (LA&PS and Faculty of Environmental Studies) are both featured in this film.
"Diasporic communities have complex histories, identities and cultures, and the Indo-Caribbean diaspora has in many ways been misrecognized and invisible within Canada," said Mohabeer.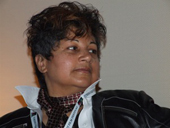 Prior films by Mohabeer include experimental documentaries Blu In You (2008) and Coconut/Cane & Cutlass (1994); shorts Echoes (2003), Tracing Soul (2000), TWO/DOH (1996) and EXPOSURE (1990); and the experimental narrative Child-Play (1996). Mohabeer's films have exhibited worldwide at more than 400 festivals, conferences and galleries, and have been collected by university libraries across the U.S., Canada, the Caribbean and Australia.
Notable awards and honourable mentions for Mohabeer include: the Isabelle Liddell Art Award from the Ann Arbor Film Festival; Best Film with Women's Themes for Coconut/Cane & Cutlass and Best Experimental Film for Child-Play from the ZoieFest Online Film Festival; honourable mention for Best Canadian Film from the Images Film Festival in Toronto; and honourable mention to Coconut/Cane & Cutlass for Best Sex Scene from Turin LGBT.