Health Ecosphere, an innovative project established to support the development of digital health technologies in Canada, has led to the commercialization of over 75 new products, forged close to 100 new partnerships, and created a new business model for moving health-tech prototypes to market.
The lead partners of Health Ecosphere — York University, Southlake Regional Health Centre and the University Health Network — celebrated the successes of the three-year project today, along with the Federal Economic Development Agency for Southern Ontario (FedDev Ontario).
"The Health Ecosphere program reflects the strength of York's collaboration with our partners in the healthcare field, finding new ways to apply research to improve the lives of Canadians and to prepare students for exciting careers in digital health," said York University President and Vice-Chancellor Rhonda L. Lenton.
The Minister of Innovation, Science and Economic Development and Minister responsible for FedDev Ontario, Navdeep Bains, first announced $15 million in federal funding for the project in 2016. This investment was designed to bring universities, healthcare providers, the business community and government together to develop and commercialize technologies that could be used to improve the health of Canadians and position Canada as a global centre for innovation. Matching funding from private, academic and not-for-profit partners brought total investments to $35 million.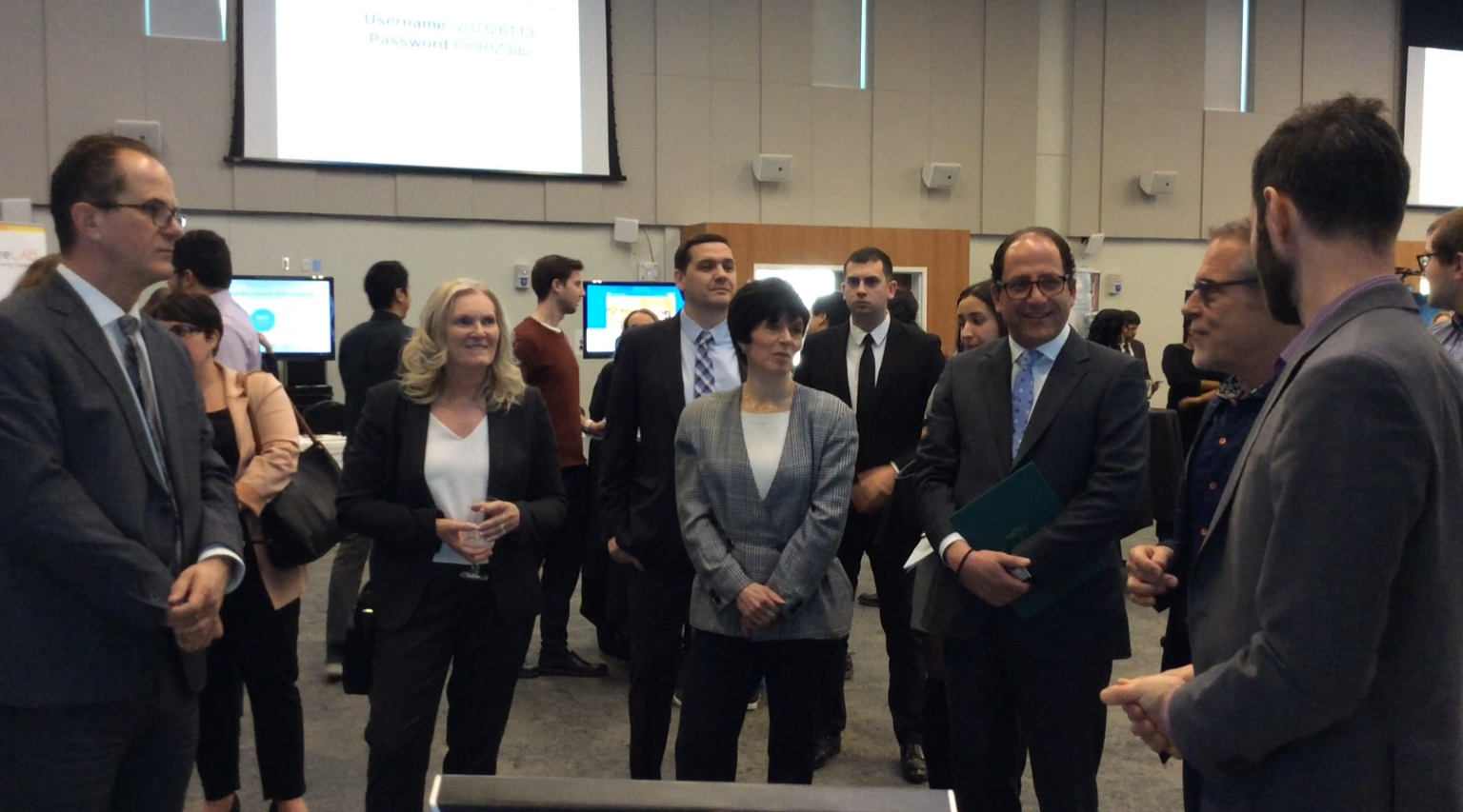 In the past three years, the project has created and maintained more than 150 well-paid positions and commercialized or deployed 77 products and services in 62 new markets.
The new products and services developed through Health Ecosphere are offering solutions to urgent healthcare issues. Technologies developed include healthcare apps, medical devices and big data platforms. They are designed to connect and coordinate healthcare, address fiscal impacts of the proliferation of chronic disease, help individuals change their behaviours, and leverage big data to develop and commercialize solutions.
Examples of the products and services developed through Health Ecosphere include:
BrDI, an evidence-based tablet shown to have strong potential as a brain health assessment tool, tracks recovery from head injury as well as functional problems related to dementia risk. York University reached an exclusive licence deal that will see the technology commercialized into a human assessment platform sold by a Canadian company. It is already in use for a large study to gather data from adults in the Netherlands.
Southlake Regional Health Centre, in collaboration with the University of Ontario Institute of Technology, validated a real-time predictive analytic tool called Artemis, which helps clinicians in diagnosing premature babies in Southlake's neonatal intensive care unit. For these tiny patients, hours could be the difference between life and death, so the time Artemis saves could make all the difference.
The Breathe Respiratory Platform has been developed and deployed by the University Health Network(UHN) to transform current methods for the self-management of Chronic Obstructive Pulmonary Disease (COPD) and asthma, from a generic paper-based approach to an approach that is dynamic and personalized. It is enabling patients in acute care and primary care clinics across Ontario to manage exacerbations in breathing more effectively.
Health Ecosphere has also created a cluster of academic, healthcare and industry partners in southern Ontario and has trained 51 graduate and doctoral students at York University, the University of Toronto and the affiliated UHN. These students, in health and applied science, biomedical engineering and health informatics, are addressing the digital health sector's need for a highly educated workforce and scientific expertise. The Health Coach Training Modules at York University, created through Health Ecosphere, have contributed to the skills development of 90 healthcare professionals, including 25 from First Nations communities and 15 rural guidance counsellors.
Health Ecosphere ventures have created $12 million in revenues, and the products and services continue to spread to markets in Canada, North America, Europe and beyond.
More information about Health Ecosphere projects is available here.