Undergraduate research from around campus was in the spotlight recently when York University hosted the seventh annual Undergraduate Research Fair at the Scott Library on Feb. 27.
Awards were presented in six different categories at the event, with students taking home prizes for Best Upper-Year Project, Best Lower-Year Project, Best Thesis Project, Best Poster, Best Group Project and Information Literacy.
"This is always one of my favourite events of the year, as it showcases how important it is for undergraduate students to get involved in scholarly research," said Joy Kirchner, dean of libraries. "Although it's typically thought of as a faculty or grad student endeavour, we need to reinforce how valuable research can be for undergraduate students as well, both for their academic and career development."
The range of projects presented at the event was diverse, with award winners coming from science, anthropology, health and fitness, and environmental studies.
"One of the interesting things about the Undergraduate Research Fair being a multidisciplinary event is that it makes it very unique," said Adam Taves, a member of the organizing committee from York University Libraries. "Individual Faculties in many cases hold their own research celebrations or research fairs, but what we're trying to do with the Undergraduate Research Fair that's hosted by the Libraries and the (Office of the) Vice-President of Research & Innovation is to really draw students out to present their work to an 'educated lay audience.'"
To be able to talk about their research in a way that another student, another faculty member or librarian from outside their specific field can really understand is the goal, said Taves.
For Rhea Virkutis, who took home first prize for the Dr. James Wu Award for Best Upper-Year Project, the opportunity to further develop her presentation and research skills was a big part of why she decided to take part in the event.
"I participated in the fair because I was encouraged by my cousin who had heard about it," said Virkutis. "She was also a participant. But I thought it would be a wonderful opportunity to flex my research and presentation skills and prepare myself for future studies in which I might have to use those."
On her big win, she said: "It was wonderful to hear my name called for the top prize. I wasn't expecting it. I was very happy with my research and my presentation, but to have that reaffirmed by the committee and the judges was a wonderful feeling."
Winners of the awards will receive a monetary prize as well as a chance to revise their poster presentation into an article to be considered for publication in Revue YOUR Review, a refereed e-journal published by York University Libraries.
Although not every student took home an award, being selected to compete in the fair should be considered an important accomplishment. To be eligible for participation, students must submit already-completed work that has received a grade of B+ or higher from a York University course. From there, a panel of experts from across the University selects who will present their work to the campus community.
A full list of award winners is available below.
Dr. James Wu Award for Best Lower-Year Project
First prize: Daniela Hernádez Cuadra for "The Quinoa We Grow" (SC/BIOL 2010)
Second prize: Raven Lovering for "Sculpting Gender Relationships: Classical Idealization in Pygmalion and Galatea" (1813-19) (FA/ARTH 2620)
Dr. James Wu Award for Best Upper-Year Project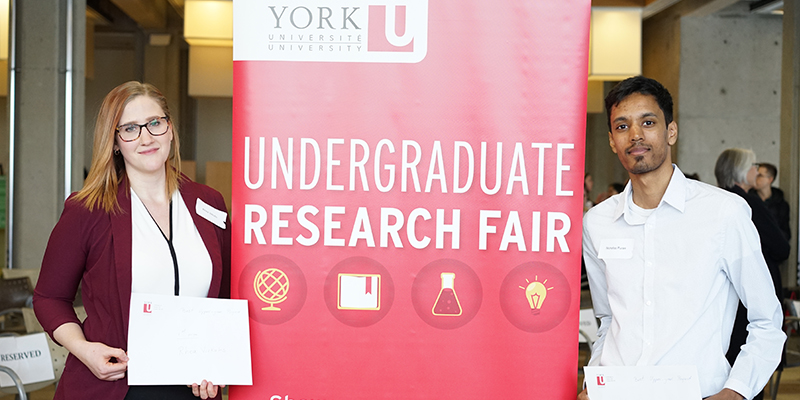 First prize: Rhea Virkutis for "Tapping into Health Disparities: Canada's Indigenous Water Crisis" (HH/HLST 3120)
Second prize: Nicholas Puran for "Effects of Lower Troposphere Temperatures on Ice Phenology and the Pacific Walrus Population" (SC/ENVB 4700)
Dr. James Wu Award for Best Thesis Project
First prize: Eric Mokri for "Elite Skill & Concussion: Comparative Study Between NHL Draft Prospects and Kinesiology Students at York University" (HH/KINE 4060)
Second prize: Hong Seok Kim for "Ancient Greek Problem: Can We Trisect and Angle with Ruler and Compass?" (SC/MATH 3052)
Information Literacy Award
First prize: John Nguyen, Alidina Imran, Elias Mitri and Mahmood Naumana for "The Cure to ALS is Flying Around You: Using Fruit Flies to Investigate a Fatal Disease" (SC/BIOL 4410)
Second prize: Susan K. Chen for "Personality and Its Function(s) in Dissociative Identity Disorder" (HH/PSYC 4050)
Best Poster Presentation Award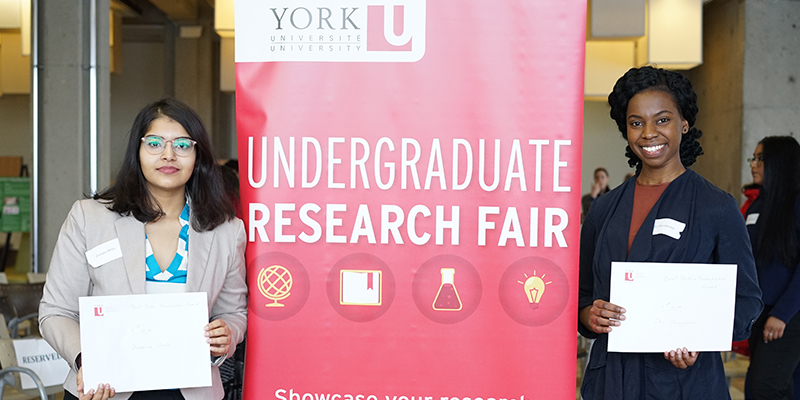 First prize: Eki Okungbowa for "'Womb for Rent:' Socio-Cultural Implications of Reproductive Tourism in India" (AP/ANTH 3160)
Second prize: Zunaira Amin for "Biculturalism and Psychological Well-Being: Investigating the Role of Socioeconomic Status" (HH/PSYC 4000)
Best Group Project
First prize: Allison Evans for "Green Roofs: The Sky's the Limit in Toronto" (ES/ENVS 3740)
Second prize: Taylor Whitehead, Roshawnah Forde, Victoria Hardashnikov and Claudia Dias Martins for "Gender Stereotypes Affect Our Memory" (GL/PSYC 3525)
Watch a video of the event below: