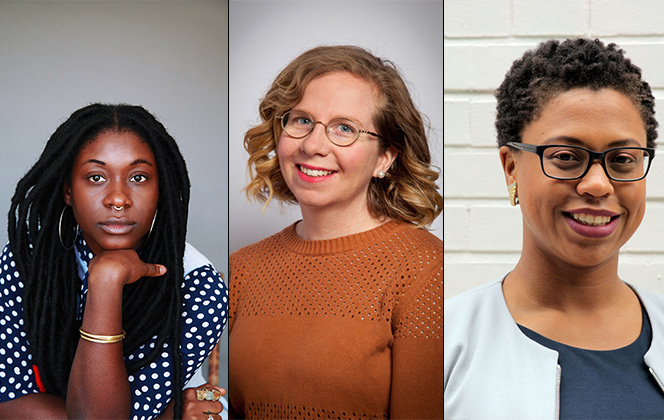 Osgoode's 2018-19 Artist in Residence Anique Jordan (left) and FILM Fellows Allie Caldwell (centre), Jalana Lewis (right)
Artist in Residence Anique Jordan is an acclaimed artist, writer, curator, organizer and city builder who has participated in residencies around the world, lectured extensively and exhibited in numerous galleries.
She was awarded the 2017 Toronto Arts Foundation Emerging Artist Award, is currently completing a 2017-18 artist residency at the University of the West Indies (Trinidad and Tobago) and is the executive director of Whippersnapper Gallery in Toronto. She has a specialized honours BA in international development as well as a master's in environmental studies from York University.
Working for more than a decade at the crossroads of community economic development and art, Jordan's work as an artist plays with the foundations of traditional Trinidadian carnival and the theory of hauntology – challenging historical narratives and creating what she calls "impossible images." During her residency, she will use the story of Clara Ford – a black Toronto-born woman who stood trial for the murder in 1895 of a wealthy white man who had allegedly assaulted her – to develop a performance art work involving Osgoode students that will bring this buried legal history into "a futuristic imagining of emancipation, freedom and the complexities of black survival."
FILM Fellows Allie Caldwell and Jalana Lewis are working together on No Advocate, a feature-length documentary directed by Caldwell and produced by Lewis that will tell the story of self-represented litigants navigating the Canadian family court system. The pair will team up with Osgoode students during the pre-production phase of the film to complete research and develop the foundation of the story.
Caldwell, who holds a BA in communication studies from Concordia University and an MFA in documentary media from Ryerson University, is a documentary filmmaker from Toronto. Her first 30-minute documentary, Unheralded, was about one of the last independent rural newspapers in Ontario. It was co-produced with the National Film Board of Canada and broadcast on TVO. She is an arts management professional who has worked with Hot Docs and the AGO.
Lewis graduated from Dalhousie Law School in 2013 and currently works as a project manager on various human rights and social justice projects. With a passion for film and media production, she recently completed the 2017 Black Women Film! Leadership Program. She has produced two plays, The Men Who Killed Me (Bus Stop Theatre, 2012) and Me Without You (Toronto Fringe, 2015), and was recently selected to participate in the 2018 Hot Docs Accelerator Emerging Filmmaker Lab.
"They are three very talented artists whose justice-themed projects will undoubtedly provoke thought and discussion," said Condon in her announcement.