Theatre @ York's 2017-18 season, dedicated to "Worlds of Exile," features a subversive take on German playwright Björn Bicker's Deportation Cast, translated by Birgit Schreyer Duarte and directed by Keira Loughran. This compelling exploration of uncommon elements of the refugee system opens Jan. 25 and continues to Jan. 27 in the Foster Studio on York University's Keele campus.
"Deportation Cast reveals the fragility and privilege of the political systems we in the first world take for granted. It demands a more complex and personal response to issues that are otherwise easy to keep in the realm of global issues," said Loughran. "It challenges us as artists to engage with open hearts in the tragic circumstances this family is caught in, and to share the cost of and culpability for those circumstances in our own lives."
It is a story of refugees: what happens to the families that are denied refugee status and are sent back to the countries they fled? What are the strategies they have developed to cope with the weight of being part of the machinery – a machinery that is meant to regulate one country's well-being but causes distress and fear for those it rejects?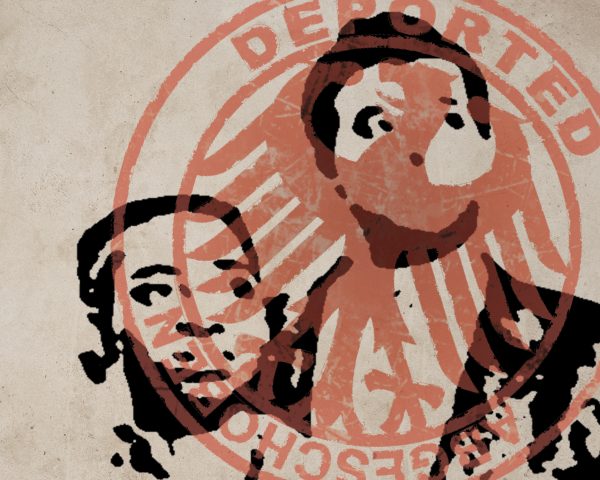 Sixteen-year-old Elvira has lived most of her life in Germany, is well integrated, has friends and has just fallen in love with a German classmate. But her family is Roma and fled the war in Kosovo when she was six. Their refugee status was never confirmed. Now, their hometown has been declared "safe" and the family is deported with little warning or time to prepare. Roma are not only stigmatized in Germany, but face prejudice and discrimination with little hope for employment and integration in Kosovo.
Elvira's boyfriend, Bruno, breaks off all contact with his pilot father when he finds out he flew the plane that deported Elvira's family. But we also meet the doctor, immigration office administrator, an over zealous social worker, and the pilot's new girlfriend. All have their strategies perfected that allow them to play their role in the officially accepted system; they all face their breaking points when the professional crosses into the personal realm.
Germany is the new country of immigration, and more than any other European country it has developed opportunities to confront and express this new reality with projects involving refugees in its rich theatre landscape. Canada is, by comparison, an old country of immigration, but it too is facing the challenges of a great new wave of Syrian immigrants
Loughran has been pushing the boundaries of Canadian theatre for more than 20 years as a director, producer, actor, dramaturg and playwright with companies across the country. Her company K'Now Theatre, has produced two shows, garnering seven Dora nominations and winning three. Loughran currently serves as associate producer for the Forum and Laboratory at the Stratford Festival. Directing credits, include The Aeneid and The Komagata Maru Incident for Stratford, and Pu-Erh for which she received a Dora nomination for Outstanding Direction. Upcoming, she will direct The Comedy of Errors at Stratford.
Bicker lives in Germany and works as an author, director, curator, cultural project leader and dramaturg. He has written 15 plays, four radio plays and three works of prose. His projects focus on social awareness and community engagement, and he has facilitated countless initiatives that integrate immigrants (legal and illegal) in the artistic process and enable interaction about living in exile with the local population. Deportation Cast has had over a dozen productions in theatres across Germany.
The Goethe Institute commissioned Schreyer Duarte's translation of Deportation Cast. Originally from Germany, Schreyer Duarte works as a translator, director (Hamlet/Shakespeare in High Park) and dramaturg (Canadian Stage). She has translated over a dozen plays from German into English, which have been staged in Toronto, Stratford and London, United Kingdom.
Theatre @ York's season "Worlds of Exile" explores longing, belonging, and displacement. Exile, refugee, asylum-seeker, nomad, migrant, immigrant, these terms share a sense of displacement and a feeling of otherness. While some of these terms can be defined in legal and political terms, others speak to a rift that generates a social and psychological condition. With "Worlds of Exile," York's Department of Theatre reflects on aspects of the varied experience of persons who, either by choice or as a result of imposition are living outside their home of origin, are othered by virtue of colonial exile practices, who have returned home only to find it unrecognizable, or who, as the children or grandchildren of exiles are living in two worlds.
Performances for Jan. 25 and 26 are at 7:30pm and Jan. 26 and 27, 2pm in the Foster Studio, Room 207 Accolade East Building, Keele campus. Admission is free but audience members must sign up at https://goo.gl/VvGKNX.