A group of 78 teacher candidates from York's BEd (French) program were privileged to be the first audience to view and learn about the new resource "En cercle, en classe" (Joining the Circle), produced by the Centre ontarien de prévention des agressions (COPA).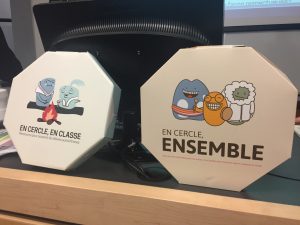 The multimedia resource for teachers, that was designed with and for all education staff across Ontario, is the result of a journey that shares wisdom and guidance from First Nations, Métis and Inuit Elders, educators, community partners, parents, families and caregivers to strengthen support for Indigenous students and their families.
"The students and team members at Glendon were honoured and grateful that COPA chose us to be the first audience to be exposed to this incredible new resource," said Glendon Site Coordinator and French as a Second Language Course Director James Steele. "Learning about authentic and meaningful ways to better serve our students, families, and communities of First Nations, Métis, and Inuit heritage is a fundamental part of being an educator, and COPA's outstanding resources in French and English help all of us achieve this."
Joining the Circle offers 10 animated vignettes in French, English, close-captioned, and several Indigenous languages, and has questions for discussion for each of these vignettes. The toolkit also offers short videos of interviews with Indigenous community members. All of the videos can be used as minds-on activities prior to a lessons or starting points for discussion.
The guide offers information about treaties, the scrip system, residential schools and many, many more topics to assist educators on their journey of learning more about Canada's First Peoples. It also provides suggestions of a activities to use within the school setting, and aligns with COPA's vision to have schools where everyone can feel safe, strong and free.
The main goal of the toolkit is to strengthen support for First Nations, Métis and Inuit students and their families through building relationships. Other goals are to provide ideas for increased awareness of Indigenous realities, histories, cultures, and to promote reconciliation.
"When students see themselves reflected in the curriculum and learn together with their educators and classmates about our rich histories, cultures and present day realities, then they will feel more welcomed within the school community," said Deb St. Amant, project lead at COPA. "This can begin to help heal the inter-generational trauma experienced by so many Indigenous families as a result of residential schools, the sixties scoop, racism, and bullying."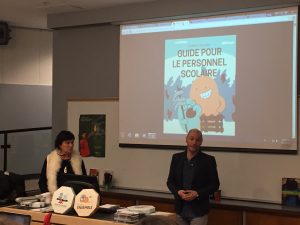 Teacher candidates at the Glendon site were able to learn about this multimedia resource and reflect on topics such as pride and identity; understanding racism and discrimination against First Nations, Métis and Inuit peoples; building and strengthening relationships with Indigenous students and families; and nurturing safe and healthy schools and communities.
"The COPA presentation, in addition to all of the resources the organization provides, has opened up my eyes to learning and teaching about First Nations, Métis and Inuit education," said teacher candidate Olena Olejarczyk. "I appreciated the time the presenters took to show us the outstanding website and resource kits that we could order online, as well as the chance to be exposed to indigenous languages that are alive and well in Ontario."
Full details about COPA and its resources can be found at www.infocopa.com.