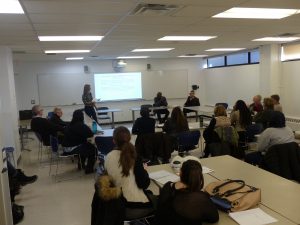 An in-house research mini-conference organized and facilitated by the associate dean of Research and Community in the Faculty of Education brought together faculty members to showcase their individual research projects and to discuss the innovative work they are engaged in.
The half-day event titled "Research Directions: Yours, Mine, Ours?" took place on Jan. 11, and was an opportunity to discuss research directions in the Faculty.
"This event not only enabled faculty members to learn about the range of topics their colleagues' study, it also highlighted how projects that seem very different actually address some of the same themes," said Sue Winton, associate dean, research and community. "Personally, I identified new possibilities for research collaborations as well as colleagues that can support my graduate students' research. I left feeling excited about the research taking place in our Faculty."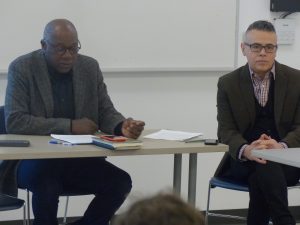 The day began with a panel presentation on the theme Learning from Traumatic Histories: Curatorial Controversies, and was followed by a series of research snapshots on a diverse range of topics, including policy advocacy, teacher education in refugee camps, discourses of teacher professionalism, literacy and technology, international students, and teaching and learning.
A number of research projects addressed the themes of identity, truth and evidence, recovering history, and teaching and learning in schools.
"Today's mini-conference offered an opportunity for us to get together as a Faculty to share and learn about some of the great research projects that our colleagues are engaged in," said Dean Lyndon Martin. "This event showcased the interdisciplinary research done within our Faculty and provided an opportunity to discuss the many ways that we can collaborate with each other to strengthen the culture of research in the Faculty of Education."