The 93 class members of EDFE 1300 (Section B), Inclusion, Disabilities and Education, held an Exceptionality Fair on Nov. 28. The purpose of the event was to familiarize teacher candidates with the special considerations regarding working with students with behavioural, communicational, intellectual, physical or multiple exceptionalities in general education classrooms.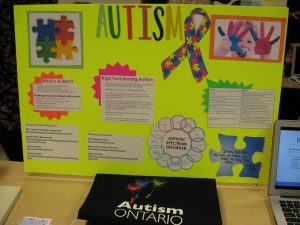 Teacher candidates, working alone or with colleagues in small groups, developed and presented stand-alone visual displays that focused on students with a specific exceptionality. A total of 35 stations, each including an Internet-based presentation and handouts as well as other resources, were available for class members to visit.
The presentations focused on the types of teaching strategies and adaptations (accommodations and modifications) that general education teachers can use to level the playing field for students with disabilities in their classes. Social and academic concerns were also considered.
The Faculty of Education is known for its emphasis on principles of equity, diversity, community and collaboration. This collaborative project brought issues of equity for students with disabilities to the forefront for the community of learners that made up EDFE 1300. The Internet-based presentations and handouts will be made available to all class members via Moodle to use as a resource in future pre-service and in-service teaching.