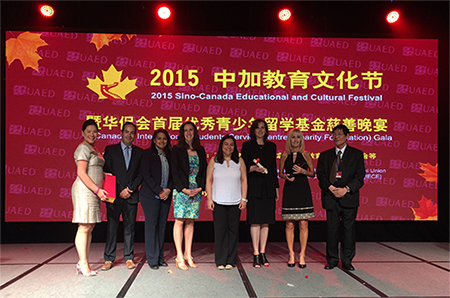 The York University English Language Institute (YUELI) was recognized recently for its initiatives in integrating international students into Canadian culture and preparing students to be successful in their future endeavours. On May 29, YUELI received a "Certificate of Recognition as an  Excellent Organization in Sino-Canadian Education" from the United Association of Global Educational Development.
The award was presented to YUELI by Rathika Sitsabaiesan, member of Parliament for Scarborough-Rouge River. Emily Rush, YUELI's associate director, accepted the award on behalf of York University at a special ceremony at the Sino-Canada Educational & Cultural Festival for institutions that showcase and promote China's history and cultural traditions through educational and cultural communication.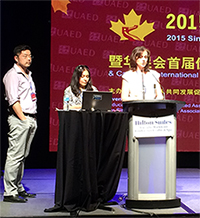 YUELI's curriculum allows for students to attain an understanding of our language and culture. The institute's efforts have resulted in students being significantly better prepared to successfully shift into future degrees and/or professional roles. A recent study showed that students who were enrolled in the institute prior to beginning undergraduate degree studies at the University achieved a higher grade point average and graduated at a higher rate than both international and domestic students. Many graduates from the institute move on to professional programs, including ones offered at York's Schulich School of Business.
York University's English Language Institute is a department within the School of Continuing Studies, offering high quality programs for students who wish to improve their English for professional and educational purposes.