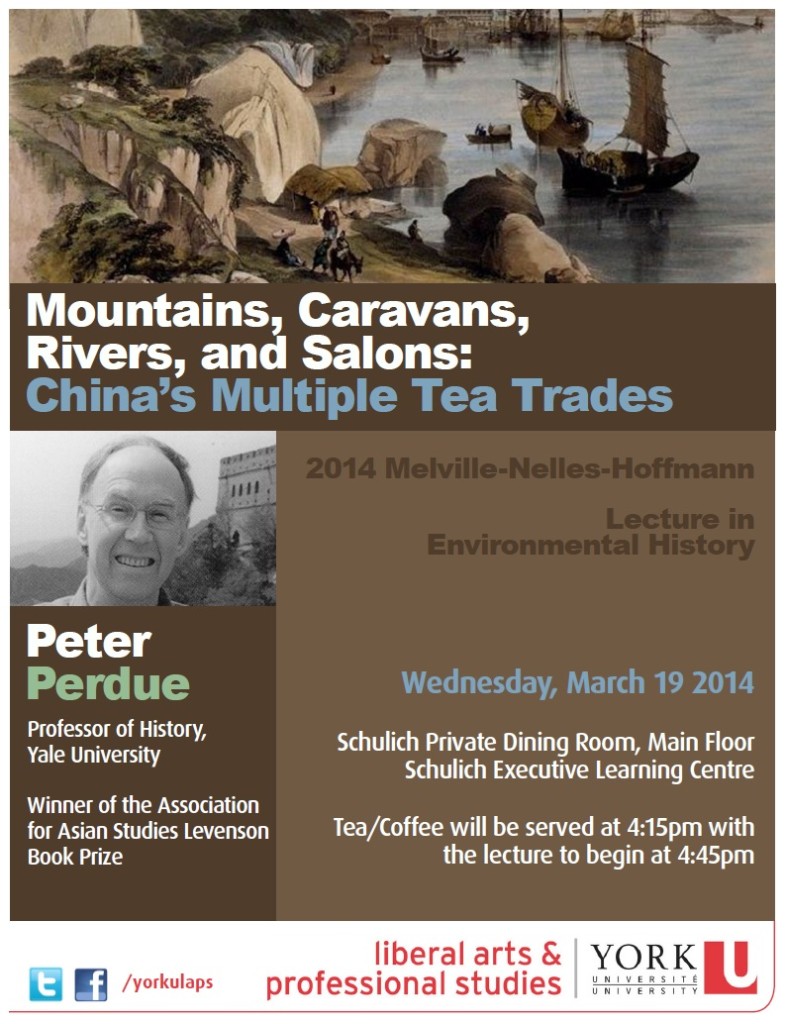 On Wednesday, March 19, the Department of History at York University will host the 2014 Melville-Nelles-Hoffmann Lecture in Environmental History. This annual event brings leading scholars in the field of environmental history to Toronto to speak about their latest research.
Yale University Professor Peter Perdue will deliver this year's lecture. Perdue will focus on the history of the Chinese tea trade. He is a leading scholar of modern Chinese and Japanese social, economic, and environmental history. Perdue is the winner of the 2007 Joseph Levenson Book Prize from the Association for Asian Studies for his book,China Marches West: The Qing Conquest of Central Eurasia.
His lecture, titled "Mountains, Caravans, Rivers, and Salons: China's Multiple Tea Trades," will explore one of China's best-known export commodities. Prior to the late nineteenth century, China was the world's predominant tea exporter and consumer. "But just as there are many kinds of tea," Perdue explains, "there are many kinds of tea trades, within and beyond China." His lecture will provide an overview of the many tea trades of China with special attention to the ecological contexts within which tea is grown. Tea demands a particular type of ecology and it is best grown in hill regions. This history of the Chinese tea trade then will follow this global commodity from highlands to lowlands to markets around the world. According to Perdue, his talk will focus on "local ecologies, state regulation of trade, global markets, and Chinese production systems."
Join Professor Perdue and the Department of History at York University for this exciting and fascinating exploration of one of the world's greatest export commodities, tea.
The Melville-Nelles-Hoffman Lecture in Environmental History takes place Wednesday, March 19 in the Schulich Private Dining Room, Main Floor, Schulich Executive Learning Centre. There will be a reception at 4:15pm and the lecture will begin at 4:45pm. All are welcome to attend. Admission is free.