Faculty of Education students in Professor Isabel Killoran's Inclusive Education course received an up-close and personal lesson on education when the Eaton and Rowett families, pioneers in the battle for inclusion, visited and gave a "real world" account of their experiences and fight to have their children Emily and Jaclyn included in a general education classroom.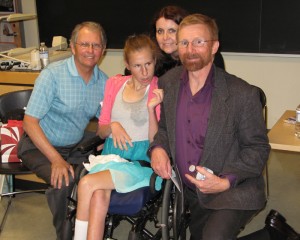 From left: Ian Rowett, Emily Eaton, Isabel Killoran and Clayton Eaton
The visit was organized by one of Killoran's students, Heather Nicholson, after she read the book Emily Included by Kathleen McDonnell in her class book club. The book is an account of the life of Emily Eaton who was born with cerebral palsy and was eventually denied access to classes at her local school. Emily and her parents challenged the local board of education for her right to be educated within a regular classroom. The story sounded strikingly similar to the experiences of Nicholson's cousin, Jaclyn Rowett, whose family faced a comparable battle. When she spoke to her uncle Ian Rowett about the similarity, he mentioned that he knew Emily's father, Clayton Eaton, and then the idea of having them visit the class to speak about their experiences came about.
During their visit to Killoran's class, both parents provided detailed accounts of their struggles with their respective school boards. The case involving Emily Eaton went all the way to the Supreme Court of Canada, and the ruling had – and continues to have – an impact on the inclusion of children with disabilities.
As part of her teaching, Killoran emphasizes that it is the right of students with "exceptionalities" and their parents to elect placement in a general education classroom at a school in the neighbourhood where they live; it is the obligation of schools, teachers and administration to provide an effective placement. Killoran's course examines disability as a social construct, inclusion as a human right and the collaboration of parents, teachers, paraprofessionals and peers as essential in supporting inclusive practice.
"We want to assist our teacher candidates to develop a critical understanding of inclusion," said Killoran. "Having the families come to speak brought the book to life and helped students understand the struggles that these families faced and how their fight still impacts the way children are educated today. I think it also helped students understand the incredible impact their decisions can have on the future of their students and their families."
The visit took place on Thursday, June 20.