Faculty of Education Dean Ron Owston has been awarded the Shifting Minds National Award for distinctive achievement in the field of 21st century learning and innovation from the C21 Canada: Canadians for 21st Century Learning & Innovation. C21 Canada is a national, not-for-profit organization that advocates for 21st century models of learning in education.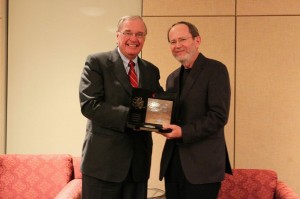 Ron Owston (left) receives his award from Paul Martin, former prime minister of Canada
Owston's award was in the Individual Leadership Award category, which recognizes the work of an individual in advancing 21st century models of learning in Canada.
The award was presented to Owston at the C21 Canada Summit last Tuesday evening. Presenting the award to Owston was Paul Martin, former Prime Minister of Canada.
For more than a decade, Owston has served as the founding director of the Institute for Research and Learning Technologies (IRLT) and co-director of the York/Seneca Technology Enhanced Learning Institute at York University.  He also serves as a member of the Academic Technology Advisory Group, which guides the development of York's eLearning strategy.
"Ron is a regular speaker at conferences with a focus on 21st century learning and the use of technology in the classroom," said Robert Martellacci, president & publisher at MindShare Learning. "His research though the IRLT has impacted educators at both the K-12 and postsecondary levels.  He is a deserving recipient of this award from C21 Canada."
"I am honoured to be one of the first recipients of this award and to be recognized for my work related to teaching and learning with technology in Canada," said Owston.
C21 Canada is a blend of national education associations and knowledge sector businesses united in their belief that 21st century models of learning must be adopted in public education on an urgent basis to position Canadians for economic, social and personal success in the high skills, knowledge and innovation based economy.  For more information, visit the C21 Canada website.