A new app called Compareware, created by York Professor Jennifer Jenson and her design team, is helping kids practice  reading and develop an understanding of how to judge the similarities and differences between objects.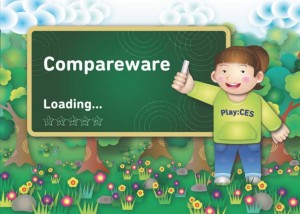 Left and below: Images from the Compareware game
The game, which targets early readers up to grade 2, is simple for children to understand. It asks users "how objects are the same" and then provides them with a list of options for them to choose. For example, meat and fish – same; you eat them – same etc. Users drag and drop the objects onto the correct answers.
"We hope to help kids build vocabulary skills and in this case analytical skills — judging similarities and differences," said Jenson. "Differences are usually something that kids recognize quite well because they are typically discerning physical differences, not functional similarities or differences".
The idea for the game came from Jenson's work with colleagues Professor Heather Lotherington and Toronto District School Board Principal Cheryl Paige. Their research project Researching new literacies in the multicultural classroom: Developing a ludic approach to linguistic challenges in elementary education explored how teachers can teach socially responsive, immersive literacies in the contemporary multicultural, multilingual classroom by incorporating current digital technology literacies.
"It was important to create the game due to the lack of educational apps out there, especially ones created by folks in education who understand the educational side of things," said Jenson. "We know that games are not a stand-in for curriculum, however, they can certainly reinforce concepts and be used as an alternative mode of delivery for certain kinds of information."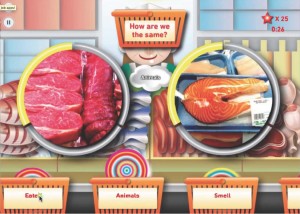 All of the artwork and design concepts were created by Jenson and her design team of programmer Kyle Huynh, Designer Hannah Park, and post-doc researcher Nick Taylor. The game was play-tested by more than 85 kids and the preliminary results were positive. The kids who played the app showed a statistical improvement in their scores judging similarities and differences when given a pre- and post-test.
"Some of the kids who play-tested the game were asking if they could 'play this every day' and if there were 'more apps like this'," said Jenson. Although the game is already in Apple's App Store, the team continues to refine it on a regular basis and is currently working on a French version.
Compareware is available in the Apple App Store and on iTunes.